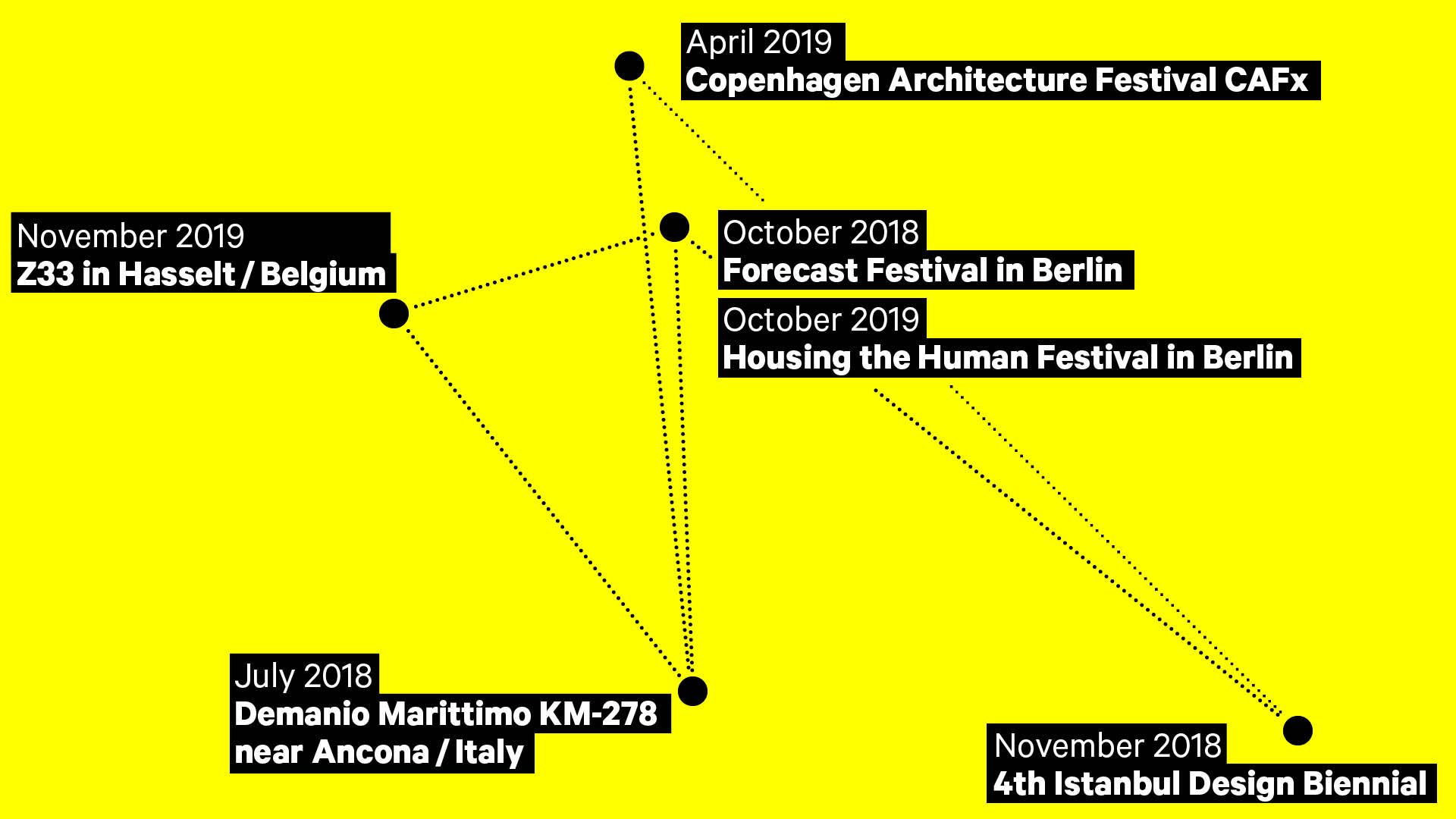 After the project's prelude in July 2018, which involved 14 pioneering initiatives, offices, and individuals, five concepts have been selected for further realization. These will result in prototypes for future lifestyles, social spaces, housing, and concepts for coexistence.
Throughout all steps of development, the collaborating partners will provide a stage for sharing the prototypes with a broader public, and for investigating them in discussions, performances, and workshops. As the project involves an expanding network of advisors, transdisciplinary expertise and assistance in implementing each project will be continually available.
Artistic Directors and Participating Institutions
Under the artistic direction of Freo Majer, Forecast sets itself apart in Berlin by inviting prominent architects, designers, curators, and artists to participate in a mentorship program for talented individuals from all backgrounds. Forecast provides a transdisciplinary context for the fields in which these creative minds work and the questions they pose, and translates these into a concrete, tangible framework in the form of concerts, performances, installations, and exhibitions. Tulga Beyerle, Omer Fast, Hou Hanru, Jürgen Mayer H., Bas Princen, and others have served as mentors. From 2015–2018, the Forecast Festival has been coproduced by and held at Haus der Kulturen der Welt (HKW) in Berlin. In 2019, Forecast began a long-term cooperation with radialsystem.
Pippo Ciorra, as senior curator at MAXXI in Rome as much as in his teaching activities, has spent many years developing a series of initiatives that address current issues: recycling, energy, migration, food, and the question of housing. In addition, he has worked with Cristiana Colli to launch the Demanio Marittimo. Km-278 innovation festival near Ancona. Once a year, one night is dedicated to encounters between architects, designers, curators, and futurologists, who use discussions and workshops to tackle questions about sustainable strategies for the future.
The Copenhagen Architecture Festival (CAFx), directed by Josephine Michau, bases its exploration of architecture on a documentary (film) perspective; this unique approach has cemented it as an important partner to international museums and academic institutions. Since its inception in 2014, the festival has worked to create a dynamic and contemporary platform to disseminate the importance of architecture in Denmark in relation to the architectural field abroad. The festival's ambition is to expand the idea of what architecture can do and to present it as a sensual, corporeal, social, political, and human element that influences every aspect of people's lives.
Jan Boelen has led the Department for Social Design at Design Academy Eindhoven for many years. In his curatorial and professorial work, he stands at the forefront of points of intersection between art and design, particularly in his redefinition of prototyping. His creation of the interdisciplinary workshop Z33 in Hasselt, Belgium, and his experience as artistic director of the LUMA Foundation in Arles and as curator of the 4th Istanbul Design Biennial in 2018 give Boelen a high degree of transdisciplinary expertise.
acatech – the German Academy of Science and Engineering, is the national academy and voice of technical sciences at home and abroad, funded by the federal government and the federal states. Its committees are composed of representatives of science organizations and technology-oriented companies. Under the leadership of its board member, Prof. Dr. Martina Schraudner, acatech advises the artistic directors of Housing the Human with its expertise on issues concerning the future in technological research and policy, and provides the project participants with contacts to German research institutions who support them in the development and production of their prototypes. As part of the Housing the Human Festival, Forecast and acatech will jointly host a one-day seminar dedicated to Housing the Human's transdisciplinary methodology.